Ghibli, say yes .... please!
Proposal to Studio Ghibli [日本語]
Dear friends at the Ghibli Studio,
This is printmaker David Bull, making traditional Japanese woodblock prints here in Japan for more than 30 years. In the early years of my work here, I made reproductions of traditional designs; perhaps you might have heard of my ten-year project making prints of the Hyakunin Isshu poetry series. This work was very satisfying, and I had many happy collectors, but I gradually came to feel that I should take a different approach - rather than simply reproduce images from the past, it would have more meaning to combine modern imagery with the traditional craft methods.
A few years ago I began to make such prints, and the venture has been very successful. My workshop has now grown to encompass 15 other people - carvers, printers, and support staff. These are mostly young people who have an intense interest in traditional Japanese woodblock printmaking, and who are learning their craft at Mokuhankan. Our basic philosophy is to try and live to the ethics of the Edo-era printmakers - creating prints on popular culture themes, priced as reasonably as possible, and in open editions; we want families and young people to enjoy collecting our work.
We of course have no permission (yet) to use your designs, but we really wanted to show you just how interesting and attractive woodblocks prints can be, so we decided to take the time and trouble to make this sample to show you. Please try this: take the print close to a window, and look at it under that natural light. You will not only feel the wonderful beauty of the washi, you can actually see the effect of the printmaker's baren in the way that the lines are embossed into the paper. Handmade woodblock prints are not just 'pictures', they are beautiful 'objects'.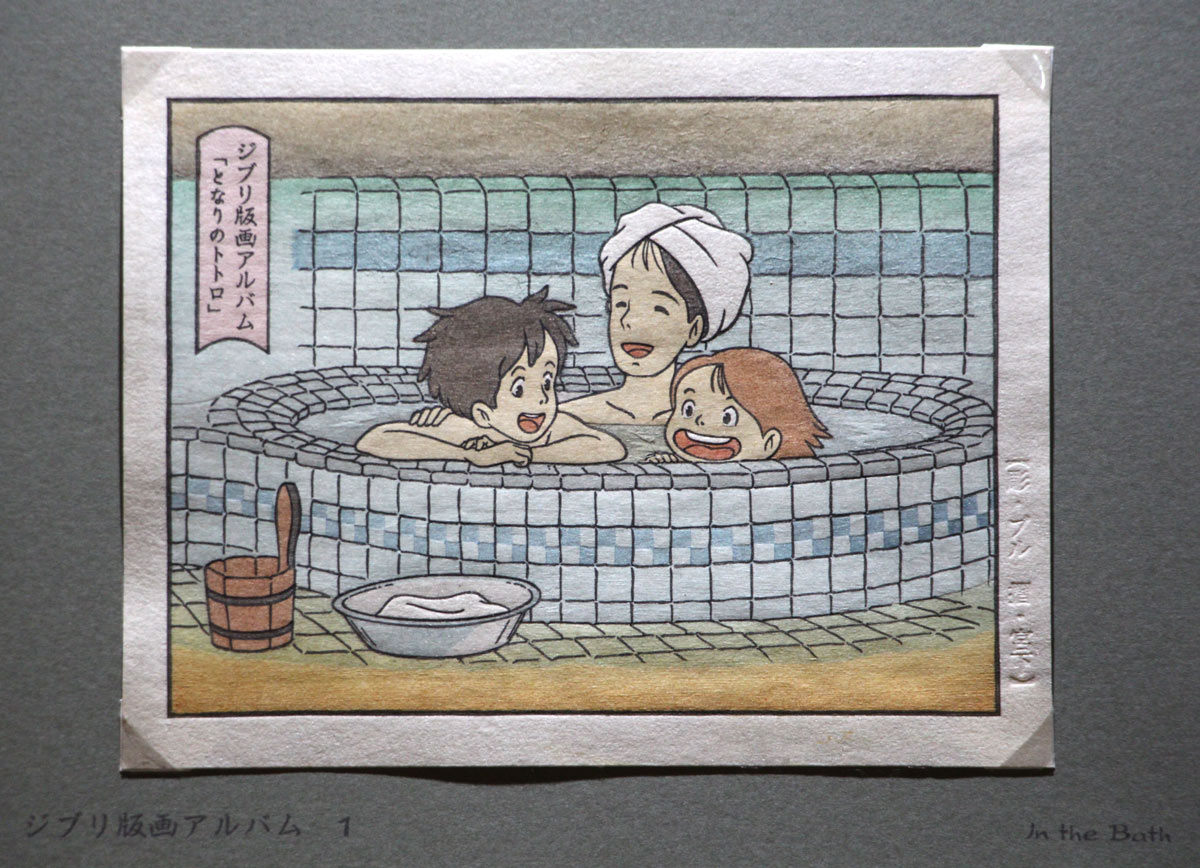 I would like to request permission to use Studio Ghibli designs for making woodblock prints. The initial idea we have in mind is to produce a series of small prints like the sample you see here. The set would contain 12 designs (of course all referencing your wonderful anime productions), and would be sold to collectors on a subscription basis, a new print each month. We propose a price of about 4~5,000 yen for each print. This first sample print is a Totoro scene; of course we would like to use a variety of scenes from other Ghibli anime.
There are many things to discuss about this kind of project: which designs to use, approval of Ghibli Studio for each design, and of course, payment of royalties to the Studio. I would like to request a meeting with your staff to discuss these things, and other concerns you may have.
Thank you very much for your attention. All of us at Mokuhankan are eagerly awaiting your positive response to our proposal to work together. We are doing our best to preserve and maintain the wonderful traditional woodblock print culture, and we very much hope you will help us do so.
David Bull
Mokuhankan
Asakusa 1-41-8, Taito-ku, Tokyo 111-0032
070-5011-1418
[return to the front page]